Top 5 Best Third Party Commenting System for Blogger
You know blogger default commenting system is quite simple and little bit different to give professional look to your blog. If you do take your commenting system to the next level or if you wanna take your blog to next level or wanna give professional look of commenting system then you should have to use third commenting system.
Commenting system is most important for blogger because without commenting system their readers can't give feedbacks and they can't express their thoughts about your post and their opinions.
I think most of the you are frustrated with your default commenting system of blogger, so today onwards you have to use third party commenting system on your blog.
Today i will give you little bit idea about third party commenting which is better to use on blogger.
Why to Use Third party Commenting System,
Not wanna explain about all things because you will understand, going to write points.
Protected and single login system.
Presence of social medias to share particular comment of any blogger or reader.
Spam control system, you can get free version and even you can buy premium version.
The best thing is increased engagement.
Users profiles and information about commenter.
Best Commenting Systems for Blogger
These are the most popularly used commenting systems on blogger.
5. Facebook
This is widely used because Facebook comment system is low barrier to entry. If you use other comment system you need to sign up then sign in then only you can comment on particular post.
Lots of visitors doesn't want to get bothers with sing in and sign up things because they want to do things faster.
I have seen most of the readers switch the site when they find sign in and sign up to comment. But Facebook system doesn't offer any search benefits. It's faster but it's not widely used, i have seen this one is widely used on news sites.
The best feature of Facebook comment system is when user will comment on post, post will automatically get shared on Facebook. If user has enabled automatically sharing feature.
The drawback of choosing Facebook as your third party commenting system. If reader and visitor do not use Facebook, it prevents them from interacting on your blog or webpage.
4. Google+
Google+ is the JavaScript based comment system that can be embedded into your blog. This one is the another alternative of google default comment system. If you are frustrated with your default comment system then you can switch to Google+ comment system because this is great with features.
It loads faster than other commenting system because it is completely based on javascript. You can mention your Google+ friends on any comment. Google+ sharing media is available on this one. You don't have to hardware work to enable this one on your blog, because you will get tab for Google+ comment system to enable.
The best feature of Google+ comment system is this will automatically share any comments on your profile and commenters profile. This feature will help you guys to drive more than other commenting system.
Livefyre, the latest and most amazing commenting system. Today this one also most popular because when bloggers get frustrated with their commenting system, they switch to another and that will help them to increase visitors.
In beginning of this system it is new kid only, when default blogger, disqus and intensedebate users are frustrated then this one got opportunity to blow. This one mostly used in tumblr and wordpress.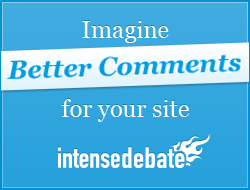 This is the easiest way to interact with users and readers on blogger. It's the blog comment hosting service
Reputation points is the one of the key features of IntenseDebate. It allows users to reward and well-thought and constructive comments with points.
Commenters reputation is determine the value of commenter and points will help to motivate them again to comment on any blog. Because they want to increase their reputation. This is the quite good feature of IntenseDebate i liked.
The other thing about IntenseDebate is it sends an email to commenters whenever some on response to their comments.
Supports free version of commentluv.
Spelling check widget.
Social sharing widgets.
Allows user to login via OpenID, Twitter, Facebook and WordPress.
Polls, Embedding YouTube Videos.
IntenseDebate is a feature-rich comment system for blogger, wordpress, tumblr and many other blogging and content management system.
This will help you to increase reader engagement. Do you want to know the features of
IntenseDebate
Disqus is the one of the most popular commenting system. I think it is most widely used commenting system. This is not only used in blogger sites, lots of other user also use disqus.
The best feature of disqus is you can migrate your comments from other platforms i.e. if i am using blogger default commenting system then that doesn't matter, i can migrate my blogger comments on disqus through migration tool.
The most amazing feature of disqus is it is mobile friendly. There are lots of smartphone users currently, everyone holds mobile on their hand for communication so it's better to use to get lot more interaction.